We have
created
and
developed
this
Non-Profit "Social Media Network
" with the
conservative
thought of
revolutionizing
and
restructuring
the web's overall social media zones, where
people
from
all ages
and
walks of life
, with
different
and
common interests
,
gather
, have fun, and get the opportunity to
share their views
and
join forces
in various
causes that matters
.
We believe that our website contains one of the most
innovative
and
interactive
, clutter free Internet
applications.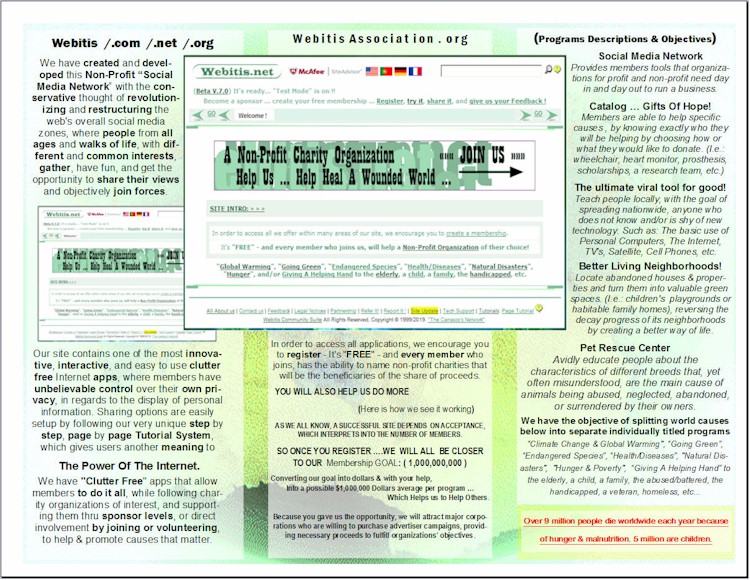 Members have
unbelievable
control of their own privacy, referring to display of personal info with sharing options, within our internet applications, along with
great performance
, and a
step
by
step
,
page
by
page
Tutorial System
, giving them another
meaning
to
The Power Of The Internet.
"Clutter Free" apps that allow members to do it all , while following charity organizations of interest, and supporting them thru sponsor levels, or direct involvement by joining them to promote causes that matter.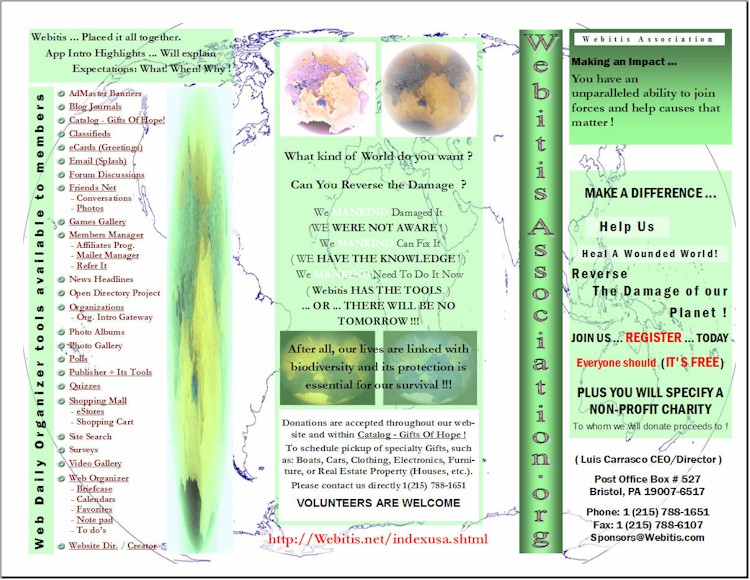 Provides members, organizations for profit and non-profit the necessary tools day in and out to run successfully in today's new business age.
Ability to help specific causes , by knowing exactly who they will be helping by choosing how or what they would like to donate. (ie.: wheelchair, heart monitor, prosthesis, etc.)
Teach locally, with the goal of spreading nationwide, anyone who does not know and/or is shy of new technology. Such as: The basic use of Personal Computers, The Internet, TV's, Satellite, Cell Phones, etc.
Locate through members suggestions abandoned houses & properties with the objective of turning them into valuable green spaces or habitable family homes, reversing the decay progress of its neighborhoods by creating a better way & quality of life.
Avidly try to educate people about the characteristics of different breeds that, yet often misunderstood, are the main cause of animals being abused, neglected, abandoned, or surrendered by their owners.
"Climate Change & Global Warming", "Going Green", "Endangered Species", "Natural Disasters" & "Health/Diseases", "Hunger & Poverty", "Giving A Helping Hand" to the elderly, a child, a family, the abused/battered, the handicapped, homeless, a veteran, etc...
In order to access all we offer , we encourage you to register - It's"FREE" - and every member who joins us, has the ability to name non-profit charities that shall be the beneficiaries of the share of proceeds.
PLUS YOU WILL HELP US DO MORE
( Here is how we see it working )
AS WE ALL KNOW, SUCCESSFUL SITES DEPEND ON ACCEPTANCE, WHICH INTERPRETS INTO THE NUMBERS OF IT'S MEMBERS.
SO ONCE YOU REGISTER….WE WILL BE CLOSER TO OUR MEMBERSHIP GOAL : ( 1,000,000,000 )
Converting our goal into dollars & with your help,
Into a possible $1,000,000 Dollars average per program
... Helping us to Help Others.
Because you gave us the opportunity, we will attract major corporations who are willing to purchase advertiser campaigns, providing necessary proceeds to fulfill organizations' objectives.